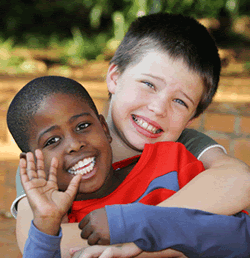 Head Start is the largest early childhood and family education program in the country and is the nation's leading investment in early childhood care and education.  Head Start provides comprehensive education, health, nutrition, parent involvement, and family support services and has primarily served at risk children and their families since 1965. Head Start consists of two programs: Head Start (HS) and Early Head Start (EHS).
HS is a comprehensive early childhood development program primarily serving at risk preschool age children and their families.  EHS, established in 1994, is a comprehensive early childhood program servicing at risk children prenatal to age three, pregnant women, and their families.
Funding for these programs goes directly from the federal government to local grantees.  HS and EHS programs serve children in families earning income at or below the federal poverty level.
In Missouri, there were 21,433 children in enrolled in Head Start and Early Head Start in 2009. 84% of those children live below 100% of the federal poverty guideline.