The Weatherization Program is a free service for homeowners or renters who qualify. Weatherization crews insulate
and repair homes to make them more energy efficient.  Weatherizing can make a home warmer during the winter and help save heating dollars.
Homeowners as well as renters with owner approval may be eligible.
After certification of eligibility based on household income and number of household members, each home is assessed
by SCMCAA to determine the appropriate services.
Professional, bonded and insured contractors perform the actual services.
Each completed job must pass a final inspection for materials and workmanship by SCMCAA.
Dwellings are prioritized for services based on winter energy consumption, elderly or disabled household members, and other factors.
No dwelling may be weatherized more than once, except those weatherized prior to September 30, 1994.
If you are interested, please call your local county office listed below. Or you can print and complete the application as instructed below.
Who is Eligible?
All applicants must meet income guidelines. Renters must have owner approval and owner participation to receive services. To find out more regarding eligibility click here for a Weatherization Checklist form.
Contractor Information
Checklist Requirements for ALL Contractors - Contractor Requirements  
Income Guidelines for Weatherization Program effective January 15, 2020

Size of Family Unit
Annual Gross Income
1
$25,520
2
$34,480
3
$43,440
4
$52,400
5
$61,360
6
$70,320
7
$79,280
8
$88,240

For families with more than 8 persons, 100% of poverty level increases $4,480 for each additional person. Therefore, for weatherization at 200% of poverty level, add $8,960 for each additional person.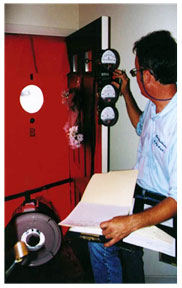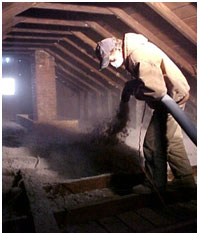 REVERFICATION ApplicationAPPLY FOR WEATHERIZATION TODAY!
How Do I Apply?
You can click here for an WX Application; applications for Weatherization can be mailed to you or are accepted by appointment at the SCMCAA Outreach Center in your county.  If you qualify for Weatherization and are a homeowner, all work and materials are provided at no cost to you!  If you qualify for Weatherization and are a renter click here for a Landlord Agreement.
Click Here for more information on Low Cost Energy Tips
Click Here for more information on Weatherization Program Facts
Click Here for the Re-verification Application
SCMCAA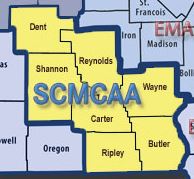 Weatherization
Locations
To APPLY for Weatherization or to find 
out more about how Weatherization can 
improve your home's energy efficiency, 
contact the county office nearest you.
          Butler County Community Action Center
          1716 S Broadway - Poplar Bluff, MO 63901
          573-785-4727
          Butler County Community Action Center
          151-1 Park Str - Neelyville, MO 63954
          573-989-3511
         Carter County Community Action Center
         1009 Main Str - Van Buren, MO 63965
         573-323-0270
         Dent County Community Action Center
         1405 S. Wines St. - Salem, MO 65560
         573-729-3500
         Reynolds County Community Action Center
         145 Maple St. - Ellington, MO 63638
          573-663-2855
         Ripley County Community Action Center
         RR 2 Box 16, Hwy. 160 - Doniphan, MO 63935
         573-996-3713
         Shannon County Community Action Center
         8120 State Hwy 19 - Winona, MO 65588
         573-325-8271
          Wayne County Community Action Center
          209 N Main Str - Piedmont, MO 63957
          573-223-7495